Today's homes are better insulated than ever. While this is great for energy savings, it can wreak havoc on indoor air quality. Millions of airborne particles are trapped indoors, where they can continue to circulate throughout your home. This can be especially concerning for people with asthma, allergies and households with pets. Thankfully, there are a variety of whole-home solutions designed to improve indoor air quality.
Read on for some of the solutions we offer, see our IAQ products or contact us for specific recommendations for your home.
Regular duct cleaning can improve system performance and indoor air quality. Your duct system may need to be cleaned if:
Anyone in the house has allergies, asthma or other respiratory problems
Anyone in your family suffers from headaches, nasal congestion or other sinus problems
There is a smoker in the house
You have dogs, cats or other pets
You notice musty or stale odors when your furnace or air conditioner runs
You notice dust on your furniture shortly after cleaning
There is not enough air flow coming from your vents
We offer complete duct cleaning for your HVAC system including coils, coil drain pans, plenums, air filters, ducts, fans, vents and registers.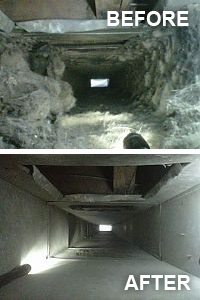 Installed inside your HVAC duct system, germicidal lights use intense rays of ultraviolet light to control and kill contaminants like viruses, bacteria, mold and yeast to prevent them from circulating through your home.
New homes and some older homes can be tightly built to save energy, but this can also have a negative impact by preventing proper ventilation. Ventilators provide cleaner, fresher indoor air while maintaining indoor comfort.
Adding humidity to dry air makes it feel warmer, allowing you to lower the temperature while still feeling comfortable. It can also help reduce dry skin and static shock. The Healthy Climate Power Humidifier attaches to your furnace or air handler and adds moisture to air moving through the duct system. A built-in fan allows the unit to circulate humidified air even when your heating system is not in operation, providing optimal comfort.
Air Purifiers and Filters
These options work with your heating and cooling system to provide a thorough, whole-home-solution. Besides providing excellent filtration, our home air quality products can also help prolong the life of your heating and cooling system and ensure it operates at top efficiency.